Message
Hi all,
QQ, I took off my 350z brembo calipers, and went back to stock iron 300zx TT calipers with the 350z rotor adapter to keep the 350z rotors up front. Those with that setup, do you have terrible brake fade? I'm hoping it's just the pads I have on there now, and if I upgrade the pads the fade will disappear.

I know the pad doesn't make full contact with the rotor, but I'm guessing that's not the issue, and it's more to do with with the pads? At least I'm hoping that's the case.

Because now, it only takes a few good stops and the pads have horrendous fade. It's been so long since I've been on stock calipers, I can't remember how good/bad they were. For sure, my 350z brembo calipers never faded, no matter how hard I pushed them.
-----------------------------------------------------------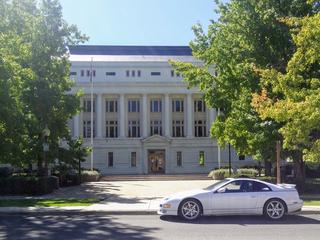 Sig Quotes:
your brillant
(n/m) - Zski (Generation Z) 14:36:48 06/17/04
Fat kids will eat
anything. (n/m) - SooperZ95 22:13:47 07/05/04
BTW, spelling
has nothing to do with being stupid, stupid. - AzHeat
22:08:35 11/21/04
First of all, we
already know you're a little pussy bitch from San
Francisco - Marshall 21:36:41 06/08/05
North Dakota is
so flat you can watch your dog run away from you for 3 days.
- BeegsTT 13:31:27 06/15/06
The City of
Santa Monica can fornicate itself with an iron stick. -
93TTSuperWHiteZX 17:20:16 10/31/06
I work with
fiberglass you stupid f*** - TheTwinZ (Peru) 12:25:30
03/27/07
********\\\\\\\\|////////********
People who are willing to sacrifice
Freedom for safety deserve neither
- Benjamin Franklin -
********////////|\\\\\\\\********