rotors..

I spent some more time getting a full preliminary bracket made tonight.

Got a hold of some ~9/16" teflon/delrin material...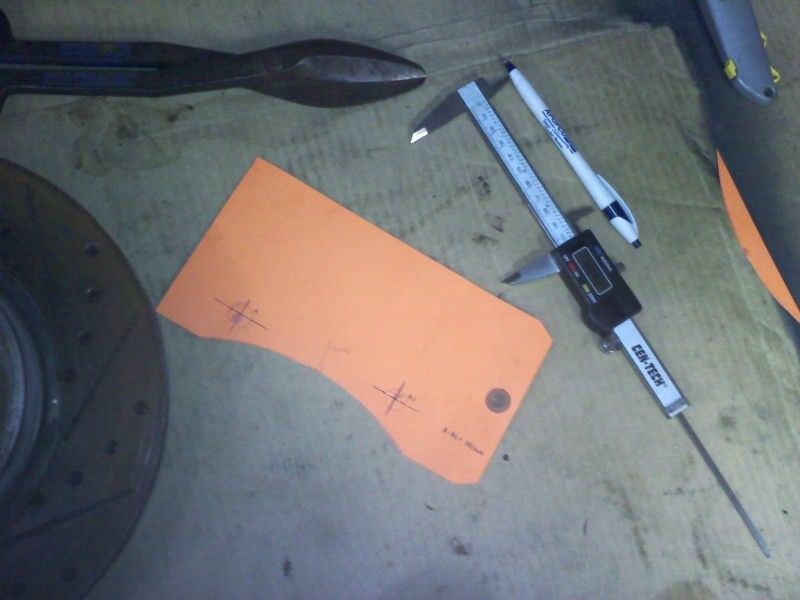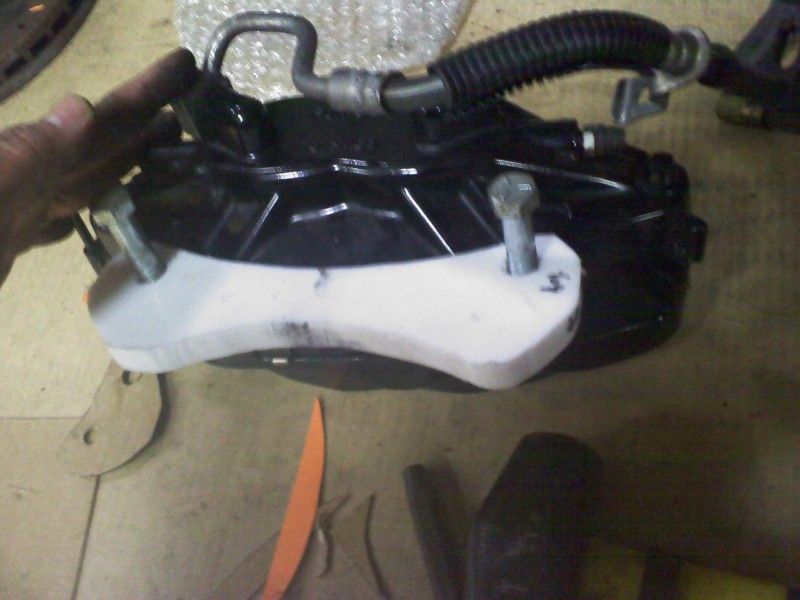 I need to mill it down to about 8mm or 5/16 thick due to the caliper/stock mounting points distance, but I am getting the basic layout and caliper position right.. No over hang etc.
I need a 27/64" drill bit so that I can tap the 12x1.25 hole so the stock hardware can be used to secure the relocation bracket to the chassis.
Then some short 9/16 coarse thread bolts with red locktite to secure caliper to bracket..
Coming along pretty good..
I used paper first for template.. then transferred that over to a thicker cardboard.. then transferred over to the delrin.. (its easy to cut,tap etc... perfect material for playing around with ideas).
Took me a couple of hours of mounting.. dismounting etc etc.. but I could def do this a lot faster now.
Once I get a good template.. I will just get some 5/16" or ~8mm steel plate and go to town. I was thinking of actually using a 9/16" plate.. then step/relief cut the ears down to 5/16".. Just so there is more material to keep it strong.
The pad surface area is SO much larger than oem calipers.. as well as the rotor being the 14".. pictures just don't do justice.
I wanted to go with a stoptech 2pc rotor.. but I found out today that stoptech actually stopped making them and it will be a few more months before they start production again. So I think I am either going with Shelby performance parts or Baer Eradi-speed 2pc rotors.. both are directional vaned, zinc coated etc.
Just figured I'd do a quick lil update.

~~~ Sig starts below
~~~
NO, This picture is not photoshopped.
src="http://www.maximusdvd.com/mytwinturbo/images/b
ikeburnzig.jpg">
AIM:Shawn300zxTT
"-Any closeups on the nuts? - zboost(tx) 19:17:53
08/08/05
-Not really something you want to ask another man
about... (n/m) - LordZ 19:24:00 08/08/05"
"I just took 45 min and scrubbed the heck out of my rear"
teambushido(San Diego, CA) 19:24:51 12/11/04
-1991 Stage _ TT 5spd (Upgraded to hell and back)
Custom widebody
-1990 Midnight blue 2+2 NA 5spd. (conversion soon :)
-2001 Ford F-150 Crew cab, 5.4 Triton v8.. Tow bitch
-2004 Honda CBR 600RR (Candy blue, FOR SALE)
-1990 Cherry Red Pearl ,Auto Coupe (Parts car)
Gone..
-1990 Super White 2+2 Na Stage 3 Auto (Deceased :( )
-1990 11 Sec Eagle Talon Tsi AWD, (SOLD!)
-1997 Acura 2.2 CL, 5spd. Daily Driver.. (black ice victim
:(